The Workshop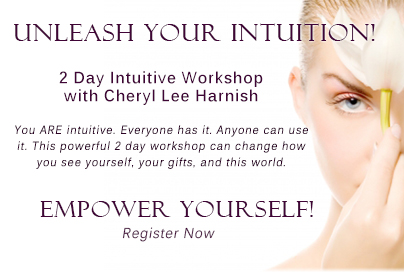 Unleash Your Intuition!
2 Day Intuitive Workshop with Cheryl Lee Harnish
Would you like to get practical experience in using your intuition and connecting to the world of Spirit? Your intuition is the bridge between you and your Soul. Using your intuition, you can learn to get your guidance directly from Spirit, and walk your path with confidence.
Day 1 You Learn to:
access your intuition naturally
feel and connect to your Spirit Guide(s)
build active two-way communication with your Guides and Spirit
read others intuitively and energetically
discover how Spirit speaks to you and how to decipher the symbology and meaning
get out of your own way and trust
overcome fears of sharing your intuitive insight
Day 2 You Learn to:
build on the skills learned in level 1
deepen the intuitive connection for guidance and direction from your own Spirit Guide
connect to the Spirit Guide(s) of others
understand the connection between dream symbols and intuition
dive into mediumship
connect and read distance energy
fine tune skills such as time-lines, locations and most possible out-comes
This is a safe, confidential, and loving learning environment. All work is centered around the heart to facilitate the greatest growth potential. Participants will be willing to work from the heart, open to giving and receiving support, and open to being read by others.
Cheryl Lee Harnish is internationally recognized in the mind/body/spirit industry. She is the creator of the best-selling Path of the Soul, Divine Guidance, and Return of Spirit oracle decks, author of A Seed of Love and Matchstick, and an intuitive reader. Her success over the years has come through her own direct connection to her guides and following the intuitive path of her Divine Connection.
Dates/Locations
We are in the process of creating an online course for mid 2021
Vancouver, CA TBA
Toronto, CA TBA
Halifax, CA TBA
Sydney, Melbourne, and Perth - pending travel restrictions
Please contact us to be placed on the wait list.
If you're interested in helping to get Cheryl to your city or intereted in promotion, please contact us.
Student Comments
"Having taken a few of Cheryl Lee Harnish's seminars, I have been impressed with her ability to teach what would seem the unteachable, intuitiveness. Her step by step process and methodical system on learning how to understand the messages you receive and what they mean allows you to trust that information and yourself. I have been to many seminars in the past taught by Caroline Myss, Wayne Dyer, Doreen Virtue, Deepak Chopra, Marianne Williamson and Eckhart Tolle to just name a few, and each one has their own unique gifts and messages, but I find Cheryl Lee's teachings more impactful and useful then any of the aforementioned masters. Take the seminar. It will change your life." ~ Dr. Ken Kinakin
---
"Your workshop last weekend was amazing! After training for YEARS and YEARS, I found your level one so practical and useful, where I learned more than I did over weeks with another program, and gained a whole new trust and confidence. So I thank you for that! I look forward to everything else you "come out" with... Until then --- Many Lighted Blessings of Gratitude!" ~ Kirsten Hansen
---
"I just wanted to peronsonally thank you for an incredible weekend long experience at your Unleash Your Intuition course here in Edson. Your content was very mind opening and informative with a fun delivering attitude. The way in which you presented the information was the most enjoyable! You were not only just a teacher nailing it on the head but a friend who cared in wanting to help others know it's safe to be your true self. There was never a time during the course where I found myself bored or questioning myself as to why I had registered. I appreciate you for so much more than just sharing your messages and teachings. Thank you!!" ~ Lori Downey-Armstrong
---
"I really loved the workshop with Cheryl!! Best one I've ever been to of this sort! And what a turn out!!! She's a born teacher too!! Hope she keeps giving them...I can't wait for the next one!!"~ I. Effel